Year 1 Parent Information
For daily RWI phonics lessons please see the link below:
Home Reading
You can sign up and download ebooks for free from this online library. Choose an ebook linked to your child's home reading book.
Just For Fun
Why not try and work through this list of ideas to keep you busy?!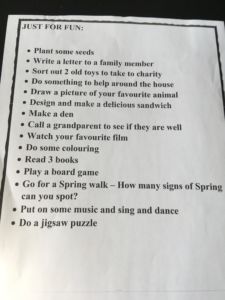 'All school trips are amazing, especially Robinwood.'
'I've really enjoyed the hard work we have been given in maths.'
'Maths is my favourite subject because I enjoy the challenges we are set.'
'I've enjoyed all the learning I've done in school and I've made lots of brilliant friends.'
'started here in Year 5 and I've enjoyed everything at Rokeby Park Primary – it's the best.'